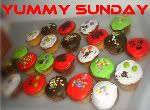 My entry for this week is "Fish Tinola". Now that I am 69 years old, I am now more conscious about the foods that I ate. Though I can eat everything but it's always good to eat foods which are low in cholesterol just like this one. It's also very healthy when you mixed it with green leafy vegetables.
You can also share your food photo, just visit
Perfectly Blended
the home of Yummys Sunday.