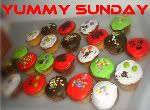 This is the Birthday cake of my sister Marcela in celebration of her 83rd birthday. (I have mentioned this on my previous post). This cake was lovingly and creatively made by her daughter. Her daughter loves to bake and she's really good at it. It was a yummy cake because it was really made especially for golden girls like me that don't like foods that are too sweet. This cake is just perfect for me.
For more of Yummy foods, check out
Perfectly Blended
the home of Yummy Sunday. By the way, I'm so happy that I am the featured Yummy Sunday participant for this week. Wow! I'm truly honored.